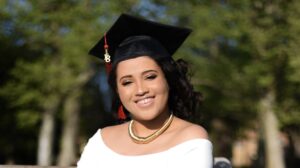 Taylor Grace Johnson is a Southern California native and was raised in the San Gabriel Valley. She received her Bachelor of Arts (B.A.) in Journalism from Hampton University and is a proud HBCU graduate. During her tenure at Hampton, Taylor participated in several different organizations including serving as a contributing writer for the Her Campus Hampton U Chapter blog, an anchor, reporter and contributing writer for Hampton's WHOV TV and WHOV Radio, member of Hampton's NABJ chapter and also a member of Organization for Social Justice.
In 2016 Taylor was an intern at the Democratic National Convention in Philadelphia where she interviewed convention protestors and some well-known attendees and was also responsible for providing and exchanging campaign signs on the convention floor to the attending delegates.
After graduation, Taylor eventually started working in the healthcare field as an analyst and has experience collaborating with insurance companies and catering to patients. She is excited to utilize her skills at Cayenne Wellness while simultaneously giving support to those with Sickle Cell Disease in her community.